【Event Title】2022/03/31 Focus Summon (Freya)
【Event Period】2022/03/31 (Thu) After Maintenance - 2022/04/14 (Thu) Before Maintenance
【Location】Hero Summon > Focus Summon
【Event Content】
Summon Cost: (Only available with 10x Summon)

Diamond x1000 or
Summon Scroll x10

SSR Hero List:

Summon Bonus:


SSR Hero summoned from the pool will guarantee to be Freya.
The pool will be closed as soon as Freya is summoned.
---

【Event Title】Labyrinth - Mysterious Boss Invasion - Tiamat
【Event Period】Available from 2022/03/31 (Thu) After Maintenance
【Location】Labyrinth
【Event Content】
Players has chance to encounter "Mutsuki", "Elienne", "Lailah", "Joan", and "Tiamat" in the Labyrinth in each floor.
Completing each battle in Labyrinth will get "Felcoin".
Defeating "Tiamat" has chance to get more Labyrinth or the Tiamat Shard.
Felcoin can purchase Joan Shard, Elder Regalia Lucky Box and other items in Labyrinth Shop
【Elienne Info】(As Hero)
Element: Water
Class: Defender

Standard Attack:

Stab:

Inflict 69% damage to enemies in range.

Swift Skill:

Deep Sea Guardian:

Inflict 230% damage to nearest enemy. Also grant Sacrifice (Absorb all allies damage) for 7 seconds and Shield (Block 339% Defense damage) for 10 seconds to self.

Might Skill:

Frost Form:

Inflict 402% damage to 1 random enemy and grant Ice Ward to self for 8 seconds. When attacked, Ice Ward inflicts Frost (Decrease 21.1% Mana Regeneration and 21.1% Attack Speed) for 6 seconds to attacker.

Ultimate Skill:

Sea King's Wrath:

Inflict 719% damage to 2 random enemies and increase 24% Health for 20 seconds to self and 3 allies. (Priority: Lowest Defense)

Leader Ability:

Tough:

Increase 6.8% Defense to all allies.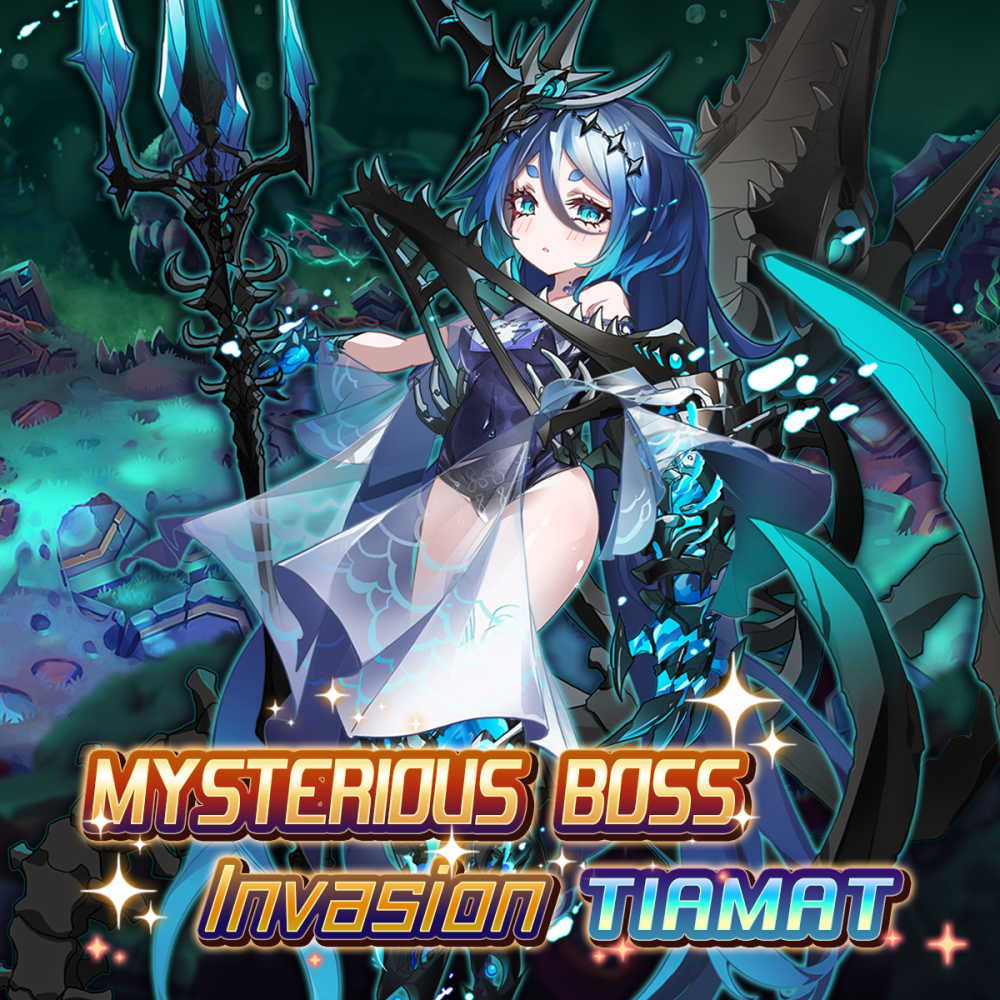 ---

【Event Title】2022/03/31 Limited Merchant Update
【Event Period】2022/03/31 (Thu) After Maintenance - 2022/04/07 (Thu) Before Maintenance
【Content】
Value Summon Package
Price: USD 49
Location: Premium Shop> Specials
Purchase Limit: 1
Content:

Diamond x1600
Summon Scroll x60
Sunstone x40K
【Note】
Runewaker Entertainment is not responsible for lost data due to lag, connection issues, or crashes caused by the unstable network.

Runewaker Entertainment reserves the right to modify, cancel, terminate, or suspend the Event and its Complimentary content. Please refer to the Official Website for the latest announcement.

The Event can be postponed or canceled due to Force majeure.

Matters not mentioned here will follow the regulation of the organizer.