【Event】2020/06/10 Pick Up Summon
【Location】Summon>Pick Up Summon
【Period】2020/06/10 (Wed) 16:00 - 2020/06/24 (Wed) 16:00 GMT+8
【Content】
SSR Heroes: Ada, Clementine, Summer Naefera, Asim

SSR Rate: 3%
【Hero Details】
Ada

Class: Berserker

Normal Attack:

Lightning Blast:

Inflict

100%/145%/210%/305%/445%

ATK damage to enemies in front of you. Every 3 seconds, shoot 2 bolts of lightning, each inflicting

140%/203%/294%/427%/623%

ATK damage to enemies in range, with 50% chance to inflict Paralyze for 1-3 seconds. Each hit had 50% chance to shoot an additional bolt of lightning.

Skills:

Lightning Charge:

Summon lightning to charge forward, inflicting 300%/435

%/

630

%/

915

%/

1335

%

ATK damage and -40%/48%/56

%/64%/80%

DEF for 3 seconds to enemies in its path, with 50% chance to inflict Paralyze for 3 seconds. After activating skill, grant Remove all debuffs and Immune to all debuffs for

2.0/2.5/3.0/3.5/4.0

seconds to self.

Lightning Shield:

Summon Lightning Shield (Can Block Critical Damage 10 times) for 10 seconds on self. When receiving damage, retaliate and inflict 170%/247

%/

357

%/

519

%/

757

%

ATK damage to enemy with 30% chance to inflict Paralyze for 1 second. Shield also inflicts 170%/247

%/

357

%/

519

%/

757

%

ATK damage every second to enemies in range with 30% chance to inflict Paralyze for 1 second. If shield if broken, inflict 900%/1305

%/

1890

%/

2745

%/

4005

%

ATK damage to enemies in range with 50% chance to inflict Paralyze for 3 seconds. With each hit, if target has buffs, debuff target and grant +30% ATK and Accuracy for 5 seconds to a random ally. Can stack 3 times.

Current Move:

Slam the ground and send shockwaves, each inflicting

300%/435%/630%/915%/1335%

ATK damage to enemies in its path with 30% chance to inflict Paralyze for 3 seconds. If target already has Paralyze, shockwave splits into 3 smaller shockwaves, each inflicting

150%/218%/315%/458%/668%

ATK damage and -

40%/48%/56%/64%/80%

ATK and Movement Speed for 3 seconds to enemies in its path.

Passive Skill:

Thunder Gaze:

After receiving Critical Hit, gain Gaze. Consume 10 Gaze and summon lightning, inflicting

960%/1392%/2016%/2928%/4272%

ATK damage and Cannot Block for 3 seconds to random enemy. If target has Paralyze, also inflict +

1.0/1.2/1.5/2.0/3.0

seconds to random skill cooldown. Thunder Gaze can occur once every 3 seconds.

Artifact Skill:

Lightning Boost:

When attacking, if target has Paralyze, 10% chance to gain Electron for 10 seconds. Electron grants +3% ATK damage to Lightning Strike, Lightning Shield, Current Move, and Thunder Gaze. Can stack 20 times.

Clementine
Class: Priest

Normal Attack:

Iru Bomb:

Summon Iru bomb, inflicting

100%/145%/210%/305%/445%

ATK damage to enemies in range with 10% chance to dissipate recovery Energy and inflict Weaken (-30% HP) for 3 seconds. Recovery Energy grants

120%/150%/186%/234%/294%

ATK Heal to allies hit with 20% chance to grant Hardy (+30% HP) for 3 seconds. Recover energy can occur once every 3 seconds.

Skills:

Hand of Destruction:

Summon the Hand of Destruction on random enemies, each hit inflicts

40%/58%/84%/122%/178%

ATK damage and Root for 3 seconds to enemies in range. Each Critical Hit also grants either

320%/400%/496%/624%/784%

ATK Heal or +20% Mana Regeneration for 5 seconds to a random ally. Can stack 3 times.

Hand of Healing:

Summon the Hand of Healing on self and weakest ally, granting Remove Bleed, Drain, Fatal, Burn, Exploding Burn, Poison, Venom, Septic, and other Damage over time debuffs and Hardy (+30% HP) for 3 seconds. Also grant

110%/138%/171%/215%/270%

ATK Heal every 0.5 seconds for 3 seconds to allies in range. Each Damage over time debuff removed adds 1 second to Hand of Healing.

Iru Shield:

Consume 8 Mana and summon Iru Light on all allies. Light grants

100%/125%/155%/195%/245%

ATK Heal and 30% chance to gain 1 Mana every 0.5 seconds for 1.5 seconds. After 1.5 seconds, Light turns into Shield, can block

420%/530%/650%/820%/1030%

ATK damage for 10 seconds. Shield also Removes CC debuffs once per second. Also shoots lasers, inflicting

110%/160%/231%/336%/490%

ATK damage to enemies in a straight line.


Passive Attack:




Marked Hand:

When attacking, 5% chance to inflict Marked Hand for

7.0/8.5/10.0/12.0/15.0

seconds on enemy with highest ATK. Marked Hand will disable a random skill. Marked Hand can occur once every

5.0/4.7/4.3/3.8/3.0

seconds.

Artifact Skill:

Mana Whisper:

Every 5 Heals done, gain -1.5 seconds to a random skill cooldown and grant 3 mana to a random ally. Mana Whisper can occur once every 5 seconds.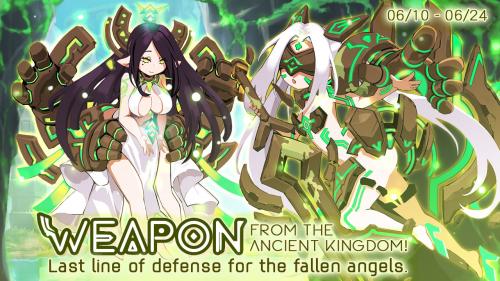 【Note】
Runewaker Entertainment is not responsible for lost data due to lag, connection issues, or crashes caused by the unstable network.

Runewaker Entertainment reserves the right to modify, cancel, terminate, or suspend the Event and its Complimentary content. Please refer to the Official Website for the latest announcement.

The Event can be postponed or canceled due to Force majeure.

Matters not mentioned here will follow the regulation of the organizer.

All participants are acknowledged as agreed with the latest announcement on Event Page and Official Website.