Awaken System
A new method to make your Heroes even stronger. Obtain materials in Trials to awaken your Heroes!
Receive 6 attempts daily to enter the Trials. More entries can be purchased in the shop.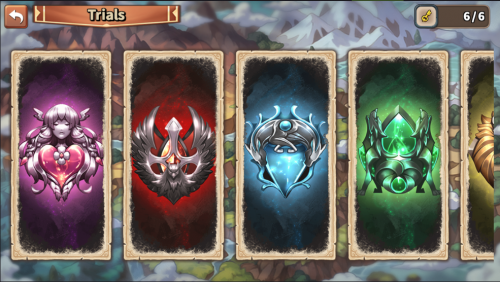 Awakened Heroes will gain a new appearance and a stats boost.
Also gain the ability to learn Skills from Heroes of the same rarity and class.
Note: Main story line Heroes cannot be awakened at this time.
Awaken:
Only SSR Heroes can be awakened.

Once Hero reaches six stars, Awaken can be accessed with the Awaken button.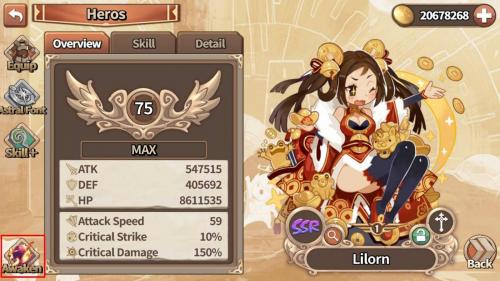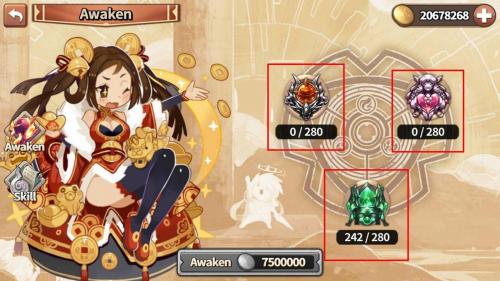 Skill Set: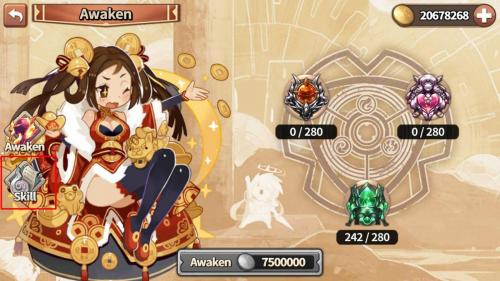 (Additional Skill Set)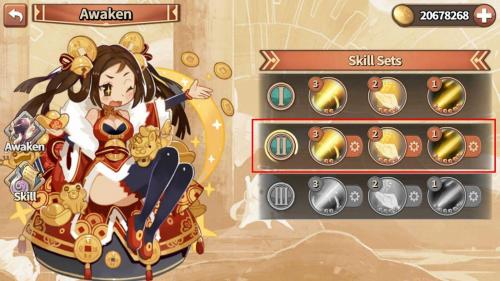 (For each Skill Set, one Skill can be replaced)
Skills can only be learned from the same rarity and class. Hero will be consumed.

Cannot learn Attack or Passive Ability

Learning Process:

Select Skill Set to modify. (Cannot be original Skill Set)

Select Skill to replace (Must be of the same Mana Cost)

Select Hero to consume

Confirm to consume Hero and replace Skill.

Newly learned Skill will be level 1.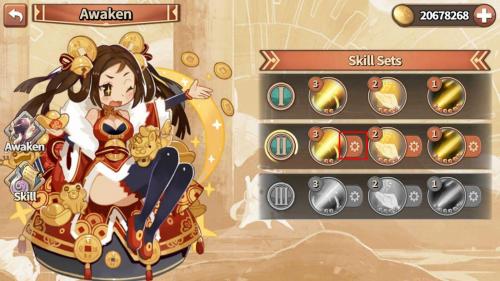 (Slect Skill to replace)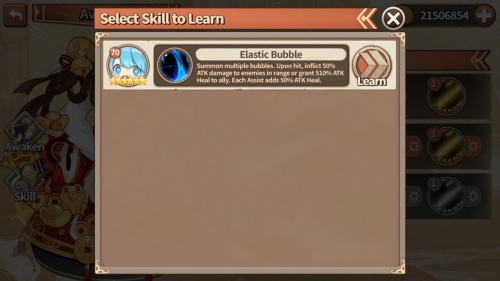 (Select Hero to consume/Skill to learn)
Learned Skill can be forgotten without penalty.

Skill Sets can be changed without penalty.

Learned Skills can be leveled.

Select Skill Set with desired Skill to level.

Tap Setting Icon on Skill

Select Hero with same Skill.

Confirm to consume Hero and level up Skill.

Can't use Skill Elf
---
Required Mateials for Each Class
- Knight: Token of Compassion (Pink), Token of Valor (Yellow), Token of Justice (Red)
- Warrior: Token of Spirituality (Green), Token of Valor (Yellow), Token of Sacrifice (Blue)
- Berserker: Token of Spirituality (Green), Token of Valor (Yellow), Token of Justice (Red)
- Assassin:Token of Spirituality (Green), Token of Valor (Yellow), Token of Sacrifice (Blue)
- Archer: Token of Compassion (Pink), Token of Justice (Red), Token of Wisdom (Orange)
- Gunner: Token of Sacrifice (Blue), Token of Wisdom (Orange), Token of Valor (Yellow)
- Priest: Token of Wisdom (Orange), Token of Compassion (Pink), Token of Spirituality (Green)
Mage: Token of Wisdom (Orange), Token of Spirituality (Green), Token of Sacrifice (Blue)