Hello Warriors,
Ruby will be obtainable in the Bundle/Packages purchased by cash after today's maintenance.

Ruby can be used for "Ruby Shop" and "Ruby Summon Pool" coming soon in the future.
- Ruby Shop: Rare items
- Ruby Summon Pool: Guarantee to get special SSR Heroes. (Nana, Lilorn excluded.)
Players can click on the magnifier to see if the bundle includeds Ruby.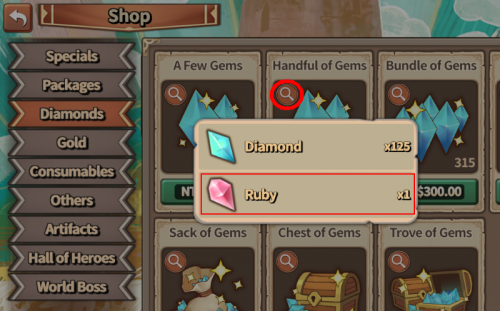 We will add icon for bundles with Ruby for better recognation soon in the coming patch.
Bundles which will not include Ruby:
Diamond:

Specials:

Newbie Hero Bundle

Neophyte Package

Hero's Package

Value Diamond Package

Super Diamond Package

Newbie Summon Bundle

Fast Bundle

Packages:

Daily Gems

7 day Trail Package

7 day Energy Package

Others:

Double EXP (1D)

Double EXP (7D)
FYI: Summer Heroes will not be included in general Hero Summon Pool, but they will be available as Pick Up Summon in the future.