【Event】World Boss - Scarlet Lina
【Period】2020/04/15 (Wed) After Maintenance - 2020/05/06 (Wed) 16:00 GMT+8
【Location】Battle>World Boss
【Consumption】World Boss Key. (Gain 1 every 2 hours, with a capacity of 10.)
【Content】
Boss rank will increase every time player defeats Artis

Artis' difficulty is increased by rank.

Rank 21 - 25 available with a higher score when completed. The rewards are the same as rank 20.
【Ranking】
Highest Damage in Single Stage

Highest Accumulated Damage
【Reward】Medal
Ranking Reward

Participation Reward
Note:
1. Badge of Valor will be reset a week later after World Boss Stage is closed.
2. World Boss Shop will be closed a week later after the World Boss Stage is closed.
【World Boss Shop】World Boss Shop Price Info
【Stage Info】
Lina Immunities:

Lina will decrease Heroes' Defense with additional Burn and Trap mark.

Lina will inflict ranged attack with additional Burn (60 seconds) and Trap mark. If Lina is Freezed, it will not trigger additional Burn, but remove Freeze status immediately and gain Freeze Resist for 20 seconds.

Lina will priorly attack Knights. If there are no Knights in the range, it will randomly attack on one of the heroes which inflicts -100% Block damage reduction and -100% Evade. It will trigger the Trap status immediately which inflicts additional damage based on the amount of Trap stacked and decrease Defense on the enemy.

If the hero is under Burn status, Lina's attack will decrease Heal and Defense.

Lina will gain a layer of Shield when received critical hit, which increases Block and Block Damage Reduction. Perforate can remove a Shield layer and can't gain another Shield layer in 5 seconds.
---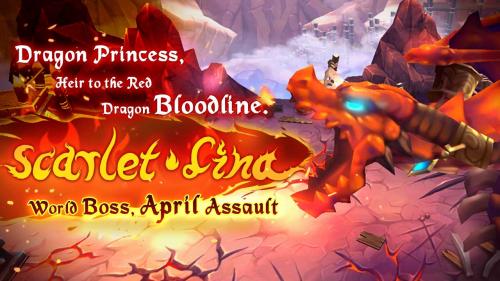 【Event】World Boss Artis Challenge
【Period】 2020/04/15 (Wed) 16:00 - 2020/05/06 (Wed) 16:00 GMT+8
【Participant】Players who enter the World Boss stage during the Event.
【Requirement】
During the event, players who enter the World Boss stage will contribute +1 to the Challenge Count.

The total Challenge Count will be calculated from the whole server.

The reward is given based on the highest tier achieved.
【Reward】
Challenge Count 40K: Arcane Dust x10K, Keys of Trials x2

Challenge Count 60K: Arcane Dust x30K, Keys of Trials x4

Challenge Count 100K: Arcane Dust x60K, Keys of Trials x6

Challenge Count 150K: Arcane Dust x150K, Keys of Trials x6
【Reward Delivery】
【Note】
Runewaker Entertainment is not responsible for lost data due to lag, connection issues, or crashes caused by the unstable network.

Runewaker Entertainment reserves the right to modify, cancel, terminate, or suspend the Event and its Complimentary content. Please refer to the Official Website for the latest announcement.

The Event can be postponed or canceled due to Force majeure.

Matters not mentioned here will follow the regulation of the organizer.

All participants are acknowledged as agreed with the latest announcement on Event Page and Official Website.