Hello, Summoners! Vignette is officially released along with brand new Showdown stages! Here let's take a close look at how it works!
【What is a Vignette?】
Vignette can be embedded in Gears if there's Vignette Slots available.
There are total 9 tiers for each Vignette which bring different Stats bonus and Skill Alternation for specific Heroes. Vignette Slots can be unlocked with Radiant Gem or Riveter. (PS: Riveter is obtainable from "Riveter Bundle" in the in-game Shop.)
Tier: Tier I – Tier IX

Stats Bonus: Vignette with higher tier brings better Stats Bonus

Skill Alternation: Unlocked on Vignettes above Tier III. The Skill alternation will be effective only when Vignette is embedded and equipped by specific Heroes.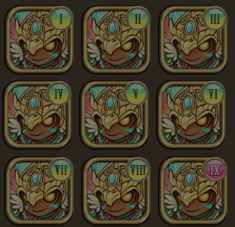 State Bonus Including (Each Vignette may bring bonus on one of below Stats):

Skill Alternation (Each Vignette may bring one of below Alternation):

Passive Skill Alternation

Ultimate Skill Alternation

Combat Skill Alternation

Others (Will be added in the future)
【How to get a Vignette?】
Vignettes can be exchanged with the required materials in Exchange Market in Sanctuary. (Unlocked at lvl 15)
Required Materials for Vignette exchange:
Hero Crystal: Rewards from Showdown Stages

Magic Core: Rewards from Showdown Stages
Exchange Details:
| | |
| --- | --- |
| Tier | Required Materials |
| Tier I | |
| Tier II | |
| Tier III | |
| Tier IV | |
| Tier V | |
| Tier VI | |
| Tier VII | |
| Tier VIII | |
| Tier IX | |
【Vigor of Gears and Vignette】
Vignette embedment costs Vigor. Vigor needed for each Vignette may be different.

Each Gear has its Vigor Limit. Summoners can embed Vignettes as long as the Vigor Cost won't exceed the Limit.
If the Vigor Limit of the target gear is 4, Summoners can at most embed two Vignettes which cost 2 Vigor each; or 4 Vignettes which cost 1 Vigor each.
Vigor cost of Vignettes:

Tier I – III: Vigor Needed: 1

Tier IV – IX: Vigor Needed: 2 or more

Vigor capacity of Gears:

Basic Vigor was set as N, there's no specific rule but depending on the design.

1 Vigor will be added upon unlocking an additional Vignette slot.

Check here for more details regarding Gear.

That's all for today's Luna Class! See you until next time! :)